This book is a treasure trove of new and unique brainteasers to keep your mind young and agile. Everything you need to enjoy a mental workout:
Variety - a full spectrum of puzzles (mazes, riddles, picture puzzles, logic, crosswords, and more)
Originality - loads of new, never-before-seen creations in the style of the great classic puzzles
Training - learn how to approach and master each puzzle; learn puzzle designers' secrets
Paperback, 272 pages, lavishly illustrated. Do you want to peek inside?



Click here to view Karmakomodia's video on YouTube.

Your Brain Can Go to Health!


Here is how Brain Trainer begins:
Like any other part of your body, your brain needs exercise to stay fit and agile. Puzzles provide a fun and fascinating workout for your mind. However, most puzzle books fail to explain how to exercise your gray matter; they ask you to bench press 400 pounds without any training or preparation.

Think of this book as your personal puzzle trainer. It not only presents you with hundreds of enjoyable brain exercises, it also teaches you how to improve your skills so you can tackle the toughest challenges.
Have fun while giving your brain a workout! Exercise your left- and right-brain skills like visualization, intuition, logic, lateral thinking, analysis, synthesis, focus, and memory.
Each chapter covers a different puzzle genre, which acts as another piece of equipment in your "mental workout" gym. Some of the puzzles provide mind-stretching warm-ups, while others work specific skills like visualization or flexibility. The variety of different puzzle types will help you find the areas that you enjoy most. The training and repetitions will help you take on greater challenges as you gain strength.
---
No more need to say,
"Where did they get that answer?" or
"How did they expect me to figure that out?"
---

How Will Brain Trainer Make Me a Better Puzzle Solver?


Each chapter offers a General Puzzle Principle you can apply to almost any type of brainteaser. Ten different principles will help you move to the next level. In addition, there are tips and tricks in each of the following areas:
9 Maze Solving Tips
6 Riddle Solving Tips
9 Rebus Solving Tips
9 Tips for Solving Hidden Word Puzzles
6 Techniques for Cracking Cryptograms
5 Tips for Solving Math Puzzles
7 Kriss Kross Solving Tips
5 Crossword Solving Tips
8 Tips for Solving Diagramless Crosswords
4 Tips and Techniques for Solving Logic Problems
7 Tips for Solving Whodunits
5 Tips for Solving Lateral Thinking Problems
7 Tips for Solving Word Search Puzzles
7 Tips for Solving Fill-in Puzzles
3 Sudoku Solving Methods
4 Tips for Solving Word Evolution Puzzles
Plus, the solution to every puzzle is explained in detail. It's a training manual to make each of us a puzzle expert.
---

To experience a small sample of the puzzles in the book, see the Puzzle Page. If the suspense is killing you, Order the Book now.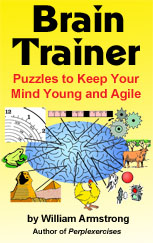 ---
Click here to order the book.


---

Chapters


Mazes
Riddles
Rebuses
Disguised Writing
Math & Science
Crosswords
Logical and Lateral Thinking
Child's Play
Answers

---