This book is a treasure trove of new and unique brainteasers to keep your mind young and agile. Everything you need to enjoy a mental workout:
Variety - a full spectrum of puzzles (mazes, riddles, picture puzzles, logic, crosswords, and more)
Originality - loads of new, never-before-seen creations in the style of the great classic puzzles
Hints and Answers - learn how to approach and master each puzzle with complete explanations
Paperback, 274 pages, lavishly illustrated.
The Best Collection of New
Brainteasers
to Come Along in Years
Perplexercises is the companion book to Brain Trainer - Puzzles to Keep Your Mind Young and Agile. Both books are all about puzzles and how they can exercise your mind.
Perplexercises is filled with over 900 puzzles! The variety is tremendous. Prepare to be perplexed.
Fun-dumb-mental puzzles (children's puzzles, dumb questions, and visual thinking problems)
Word puzzles (Riddles, hidden words, mondegreens, word evolution, and more)
Cryptic crosswords (A complete breakfast for your brain in tasty, bite-size bits)
Math puzzles that only require basic arithmetic skills, but they'll do a number on you
Logic and lateral thinking puzzles to challenge your creativity and test your IQ
Rebus puzzles (loads of picture puzzles requiring right- and left-brain teamwork)
Hands-on puzzles (mechanical puzzles you can make yourself and make yourself crazy)
Map Rallies (an addictive class of puzzle you've probably never seen before)
Hundreds of brand new puzzles with hints and full explanations of how to get the answers

---
No more need to say,
"Where did they get that answer?" or
"How did they expect me to figure that out?"
---
Plus, the solution to every puzzle is explained in detail. It's a training manual to make each of us a puzzle expert.
---

To experience a small sample of the kind of puzzles in the book, see the Puzzle Page. If the suspense is killing you, Order Perplexercises now.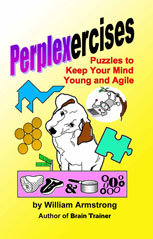 ---
Click here to order Perplexercises.


---

Great Variety


Fun Puzzles
Mazes
Riddles
Rebuses
Word puzzles
Math & Science
Cryptic Crosswords
Logic Puzzles
Lateral Thinking
Mechanical Puzzles
Map Rallies
Hints
Answers

---